Being from Minnesota, I am constantly amazed by how many of my out-of-state friends know absolutely nothing about this gorgeous slice of the US — or even worse, think of us as nothing more than a 24/7, frozen-wasteland, flyover state. So the question remains, "What is there to do in Minnesota?" I've compiled a list of 22 awesome things to do in Minnesota, happy adventuring!
Museums/ Art Galleries
Minneapolis Institute of Art (MIA)

One of the largest art museums in the US, the MIA collects, preserves, and shares diverse art from all cultures to enrich the community. The MIA has something for everyone! Try exploring the 5,000 years of history and participate in the variety of events and activities. The best part is that most of it is completely free!
Science Museum of Minnesota

From dinosaurs and sports theory to giant astronauts and live theater, the Science Museum of Minnesota has it all. There are a variety of engaging and interactive events and exhibits for all ages, which makes this the perfect place to visit solo or with a group!  The museum also boasts an Omni theater which showcases beautiful stories through an almost 360-degree screen and surround sound for an even more surreal experience.
Bell Museum

Partnered with the University of Minnesota, the Bell Museum is Minnesota's premiere natural history museum. With a diverse variety of specimens from every part of Minnesota as well as various places around the globe, the Bell Museum strives to preserve and share a love for education of Minnesota's natural history. The variety of interactive exhibits, camps, events, and even its own planetarium, make the Bell Museum the perfect place for everyone to visit!
Theater
Guthrie
The Guthrie exhibits both classic and modern shows that rival Broadway in every way. Focused on building the next generation of artists and storytellers, this theater is a must-visit with beautiful grounds to walk, and an amber box and sky bridge to take pictures in. The performance won't be the only thing that catches your eye.
The Children's Theater Company
Connected to the Minneapolis Institute of Art, this theater's mission is to inspire, challenge, and educate both its audience and performers. The Children's theater is the only theater to win a Tony award that focuses on young audiences. The quality of actors, passionate stories, and beautiful costumes and sets will have you lost in the world of whatever show is playing at the time.
Thrifting/shopping
Mall of America (MOA)

Located next to the Minneapolis Airport, the MOA is the largest mall in the US. Go visit to experience an indoor theme park, hotels, a huge variety of food, and lots of exciting things to do. This mall is simply one you cannot miss out on for the experience alone. Bonus: amazing study spots!
St. Vincent DePaul

With a mission to treat the least of these as we want to be treated, St. Vincent are actively making a difference in the community around them through food assistance as well as volunteer and outreach programs for the poor. Stop in to pick up some wonderful, unique, and interesting finds! You can rest assured that when you buy something from one of these unique thrift stores, you are making a positive difference in the community.
Arc's Value Village
Located next to the popular coffee shop, Mugshots,  Arc's Value Village is a thrift store that supports and fights for the rights of people with disabilities. There are always hidden treasures to find at great prices, so grab a drink from Mugs and head on over to Arc's for good finds to add to your wardrobe.
Delicious Food/ places to eat
Mugshots Coffee Company
In this beautiful and aesthetically pleasing specialty shop there are delicious options for coffee and tea drinkers alike, as well as several other beverage and fun food options. One cool thing about Mugshots is that they are staffed by students from a nearby University, Bethany Global University. Great for a coffee date or a study space, you can't go wrong with a visit to Mugshots.
Winkin Rooster
Located in Shoreview Minnesota, this charming, hole-in-the-wall cafe and sandwich shop has won several awards. With a great variety of food and lots of fun soda flavors, the Winkin Rooster partners with local smokehouse and soda companies to support their fellow small businesses and ensure that the food is always fresh and delicious.
Scoops Ice Cream
Looking for a delicious, high-quality treat? Then Scoops is the place for you! This is a must-try place with amazing ice cream, a fun and funky atmosphere, and a dream to continue providing the best ice cream in the Bloomington area. You can find it nestled right beside West Side Perk, a quaint little coffee shop.
Afro Deli and Grill

This delicious restaurant serves up a fusion of African, American, and Mediterranean food, in an outgoing and energetic environment. Whether you're looking for comfort food or a chance to expand your palate, Afro Deli and Grill has you covered.
Que Viet Village House
Que Viet was voted to have the best eggrolls in Minnesota and even has a stand at the Minnesota State Fair. This family-run business, with a long and beautiful history, promises to keep integrity in its cooking and to continue to serve some of the best Vietnamese food in the state. As a long-time family favorite, this is a restaurant you simply cannot miss out on!
Broadway Pizza

A classic pizza place, Broadway is the perfect place to go for some all-American food. With more flavor combinations and food options than your average pizza shop, even the pickiest eaters can find something to enjoy. Also such an amazing place to sit with friends and catch up!
Parks and Lakes
Hyland Park
Nature trails, a lake, a massive, clean rest stop building, and one of the coolest outdoor playgrounds in the area, Hyland Park is the perfect place. Go for a Sunday stroll, boat ride, ice-skating adventure, or explore beautiful shells lining the lake shore. This park is the perfect place to catch a sunset with friends or have a relaxing day to recharge in nature.
Bush Lake
Minnesota has well over 10,000 lakes and Bush is the epitome of the classic Minnesotan swimming, skating, and ice fishing lake. Bring some food to eat and start a game of beach volleyball, take a swim, or just hangout if you've had a long day. Bush Lake is a great place to soak up some sun and relax.
Stone Arch Bridge

This iconic symbol of the cities and former railroad bridge across the Mississippi has a fascinating history and is a wonderful place for a walk. This bridge is an ideal photoshoot location for every season!
Winter activities
Ice Skating
As a long-standing favorite activity by winter lovers everywhere, there are countless opportunities to ice skate both indoors and outdoors all over Minnesota.  A personal favorite rink is the OVAL, located in Roseville Minnesota. You can rent skates, or bring your own, and get some great exercise on both their indoor and outdoor rinks. Their outdoor rink has a great section for hockey and broomball.
Ice Castles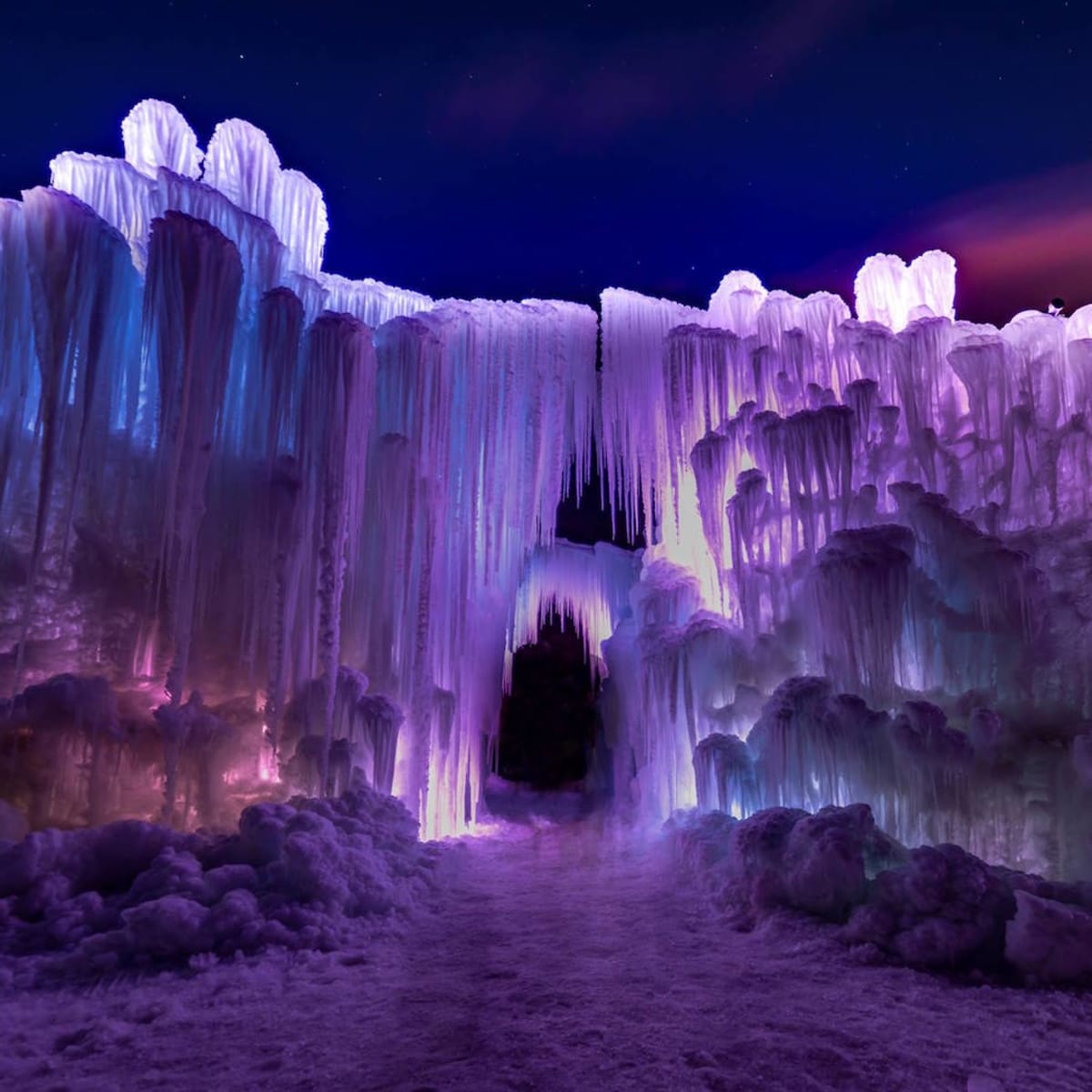 Located in five cities across the US, Minnesota is proud to be home to this gorgeous winter attraction. The ice castles are an epic opportunity to enjoy the winter wonderland with lights, warm fires, and even secret tunnels to explore.
Sledding
A cheap and easy way to have a boatload of fun. The art of sledding is one that can be done anywhere as long as you have snow, something to sled on, and at least a little hill. Often times the best sledding locations can be found in local parks and hilly forests.
Bonus
Sculpture garden

Open 365 days a year from six in the morning to midnight, this funky sculpture garden  (which is a part of the larger Walker Art Center) is a popular place to roam about and explore. Just don't forget to snag a picture with the infamous giant spoon and cherry when you visit!
Como Zoo and Conservatory

One of my all-time favorite places to visit, the Como Zoo and Conservatory has something for everyone to do year round! Visit the animals, learn about the earth, or simply relax in one of the many indoor or outdoor gardens. Looking for adventure? Head on over to the Como Town theme park. Need a place to eat your lunch? Sit down at one of the tables in the rolling hills of the park, or chill by the lake.
Minnesota is a wonderful place to visit, live, work, and go to school. This list barely touches the surface of all the wonderful things to do and places to go in this unique corner of the Midwest.